The gradual return to post-COVID normality has revealed the emergence of new consumption habits. What were still niche practices up to a few months are now increasingly established trends.
The priority of safety, hygiene and distance
Research published last June by GFK Italia captures the situation very well in the immediate aftermath of lockdown. The survey, entitled "Consumers and Retailers in the New Normal Phase," shows us how recent events have profoundly changed our priorities.
Seventy-three per cent of the consumers interviewed stated that they only go to stores that guarantee maximum hygiene and safety conditions. This desire for shopping in peace of mind finds a natural ally in advanced technology, as 49% of respondents look for retail outlets that use Artificial Intelligence and digital assistants to enhance the in-store experience.
Thus, when it comes to ranking what is looked for in retailers, the key factors are those that allow an autonomous, versatile and distanced purchasing process, both online and off-line. So, among the Top 10 consumer requirements we find a maximum number of people inside the premises, observance of distance between customers, the availability of different payment methods, fast deliveries and Click & Collect options.
E-commerce and self-service: an increasing habit
However, another very significant factor emerges from GFK's research: the growth of multi-channel retailing. The percentage of customers who purchase in the same way in physical and online stores has jumped from 17% to 43% in just over a month. Twenty-three percent of respondents stated that even when the situation is back to normal, they will make more online purchases than before.
This boom in e-commerce was also confirmed in another recent survey, by Nielsen Italia. The survey is called "Changes occurring in consumer consumption in the light of the COVID emergency" and was published in mid-July. One interesting figure from those reported: the E-commerce sector recorded an impressive 120% growth in the period from December 30, 2019 to July 5, 2020.
However, fast-growing, non-traditional purchase methods are not limited exclusively to e-commerce. The use of self-service, a combination of online sales and on-site withdrawal, and all options in favor of customer autonomy are the other side of the coin in the current evolution.
Purchase autonomously in everyday life
Self-service kiosks, vending machines, ATMs, automatic payment and queue management systems: process automation devices are increasingly part of our daily lives. Custom aims to assist the spread of these technologies with its high-quality integrated printers.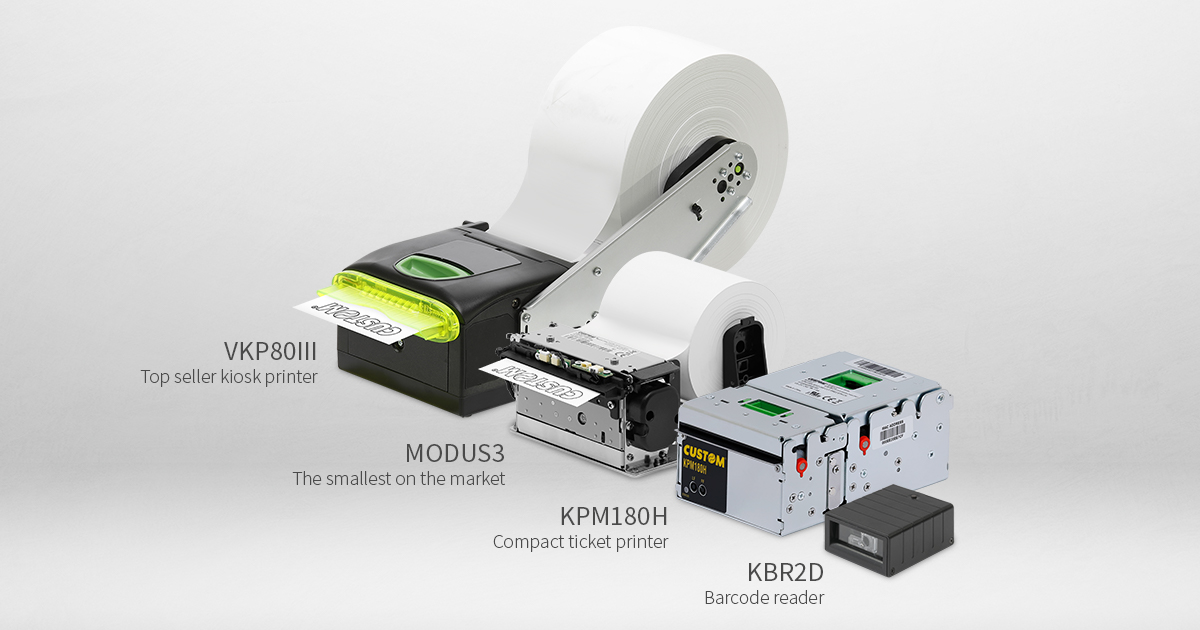 KPM180H is the practical and compact solution for OEM integrations. This versatile printer, which can be used in numerous contexts, combines flexibility and performance thanks to its printing quality and speed, compatibility with operating systems up to Windows 10 and long printhead life. The product is also compatible with the KR403 and KR203 printers, which are currently being phased out.
The advanced VKP80II is the top-selling kiosk printer and a benchmark in more than 70 countries around the world. The device is small and robust, adapting to any type of kiosk: thanks to its large "Jumbo" roll holder (for rolls of paper up to 250 mm in diameter) it offers a long service duration without having to make replacements. Resistant even to extreme temperatures, with a range from -20°C to 70°C, the VKP80II features a patented anti-jamming system with an exclusive shutter, which prevents deterioration of the internal components and damage by vandalism. Finally, it is the only printer of its kind with an Ethernet interface, and thanks to Custom Power Tool software, it allows you to customize the layout of tickets and receipts in just a few simple steps.
However, Custom's commitment to this specific sector doesn't end there. The new PP54evo, with its unique technology, lets you read 2D barcodes, manage up to three tickets at the same time, and carry out checks remotely. The Modus 3, on the other hand, is ultra-compact and light, to meet the needs of the latest-generation slim-line kiosks, while the KBR2D barcode scanner for self-service kiosks, which is omnidirectional and for large volumes, reads any 1D and 2D barcode quickly and accurately, whether printed or displayed on a smartphone screen.
Discover all the self-service solutions provided by Custom!